Wallet rocks your enterprise



Looking for a solution? - Found in Wallet!
For every company it is one of the great challenges to offer customers added value. And to come and stay in contact with them. Your products and services must be present for your customers. That's where the wallet passes come into play. They are always available to your customers on the most important contact point, the smartphone, when you want to present your services or offers. You have to be present on your smartphone these days. Whether as an app or by e-mail. This is not always the elegant solution. Cost and effectiveness and of course the benefits are to be considered here. Of course, the possibilities are manifold. Here comes some orientation.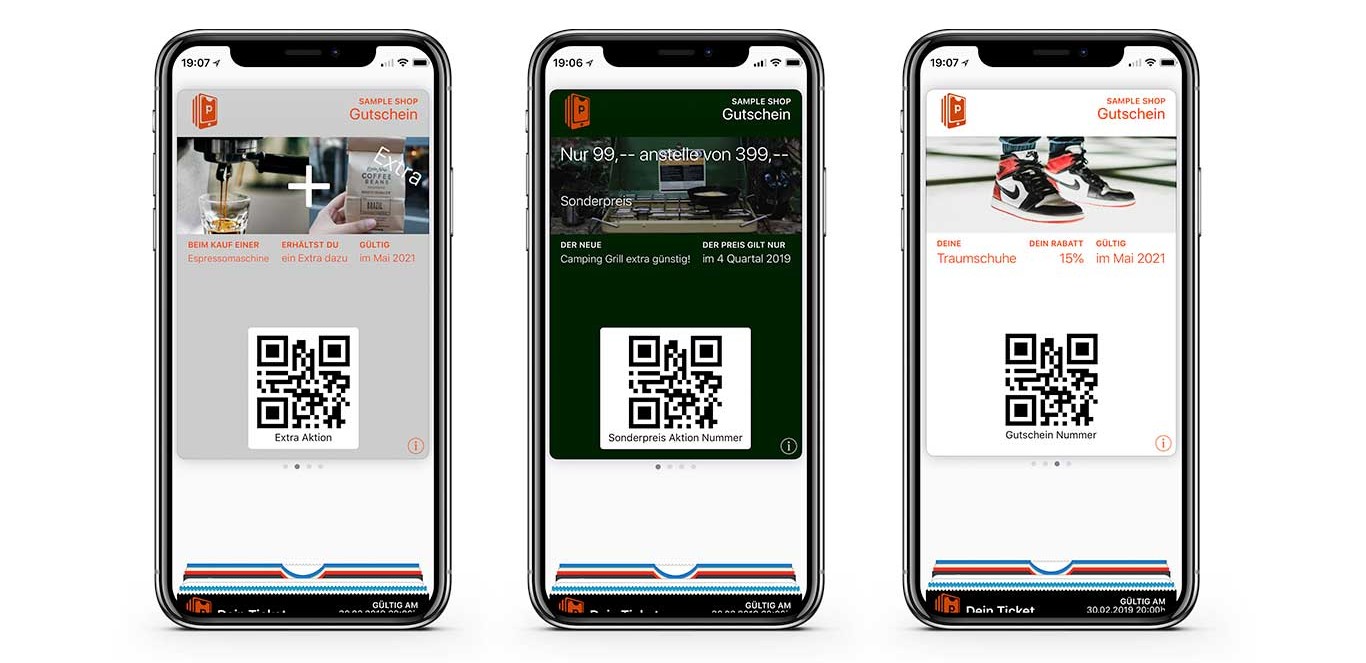 Simply create and send your vouchers in the right look and remind your customers directly in the Wallet pass to come to your shop and redeem the voucher.



The classic in customer loyalty. As usual, buy a few times and then enjoy for free. Here you can also point to special offers via push notification. If you have a special bundle in your shop on holidays, for example.
Connect your customers to your shop with an active customer card and keep them informed. With Push Notification you can draw attention to promotions, price advantages and bargains. You can also send reminders of important events, such as Christmas shopping.


Collecting bonus points is a common and well-known way to offer benefits to customers. The respective status of the bonus points can be prominently displayed on the Wallet pass. Your customer can view the customer account from there at any time. Your website with the advantages is easily accessible via the Wallet pass.
Gift cards, credit cards, collection cards, VIP cards, drinks cards, guest cards...

A fast and direct way of communicating with your customers. Unlike printed material, which has a high scatter loss rate and unlike e-mail, which you may still be able to track on read/not read, it is easier to track the lifecycle of a wallet pass.

You can connect Passcreator to your IT infrastructure. This can be done simply by Zapier or directly via API. Wallet passes are created and updated through interaction with the familiar environment. You can start immediately with Passcreator and implement the integration at any time. We can also support you in this. For analysis purposes you can also read data from Passcreator or have your systems updated via REST Hook as soon as something happens to your wallet pass, e.g. the customer saves or deletes it.
And yes, Passcreator is scalable.
If you want to validate your wallet passes, for example to verify vouchers or tickets, you can use our Companion app. You can use it on a smartphone or tablet. It is available for iOS and Android. If you already have possibilities to scan barcodes of campaigns, you can also map the validation with existing solutions via our API.
Your customer will be informed when you carry out an action, have an offer for him, remind him of a voucher, have a new appointment for him. When content changes or bonus points are collected. Likewise if your customer is near your shop.
Get started right away

You can test the full range of Passcreator directly. For this you get 5 wallet cards. Certain functions such as sending e-mails or text messages are subject to extra charges, but are very inexpensive.
Questions first

Just send us an e-mail with your questions. We can also arrange an online demo.
Interesting Links - jump directly...