2022 in Review: Passcreator by Fobi Feature Update

2022 has been a big year for the tech world. From new iOS launches and mobile devices, to the transition to Proof-of-Stake for cryptocurrencies like Ethereum and the growing development of EU regulations in the sector in general, we have seen it all. Now, as we close out the year and businesses increasingly move their tech stacks from offline to online sources, the demand for end-to-end digital experiences will only continue to accelerate.
That being said, let's look back at some of the most notable moments and milestones brought to the Passcreator by Fobi platform this year.
In The News
Digital Tickets for the Stars – 94th Oscars Academy Awards
With the biggest names in entertainment in attendance, the Academy required an efficient, reliable and high-calibre ticketing and check-in solution to elevate the guest experience. Passcreator provided the 94th Oscars with an advanced digital ticketing and venue management solution, allowing a flexible contactless entry with NFC–enabled wallet passes.
Read the Success Story
Passcreator Wins Award For Best Ticketing Technology
In November, Passcreator was named Best Ticketing Technology at the 2022 Event Technology Awards for enabling seamless customer experience and digital ticketing through a complete event and venue management solution. Celebrating its tenth anniversary, the awards program hosted by Event Tech Live annually recognizes the achievements of companies delivering digital and technology solutions to the events industry.
Passcreator Delivers Digital Membership Program for Scotch & Soda
Fobi enters the Global Fashion Industry with a Digital Membership Program for Scotch & Soda, one of the largest global fashion brands and retailers. With 270 of their own retail shops, and carried in over 7,000 locations worldwide Scotch & Soda have replaced their traditional plastic membership cards for their "Club Soda" membership program with digital wallet passes, delivering a better member experience and reducing their impact on the environment.
Passcreator Teams Up With Streamboxy for Events Integration
Event streaming platform Streamboxy, launched an integration with Passcreator to deliver an easy-to-use registration system that makes hybrid events easier than ever to plan and facilitate. With improved visibility into attendee participation, and more direct, real-time communication, hybrid conferences and events can now support on-site and remote guests simply through their wallet passes.
New Feature Highlights
In addition to headlines, Passcreator also delivered several new features and functionality to the platform..
Pass Bundling
Multiple passes can now be bundled as a set and distributed together in one download. For example, one bundle of passes can include a registration pass for check-in, a ticket to a keynote, and a lunch voucher that is all distributed at the same time. Once downloaded, passes show up in the Wallet and can maintain the corporate identity of each company offering them.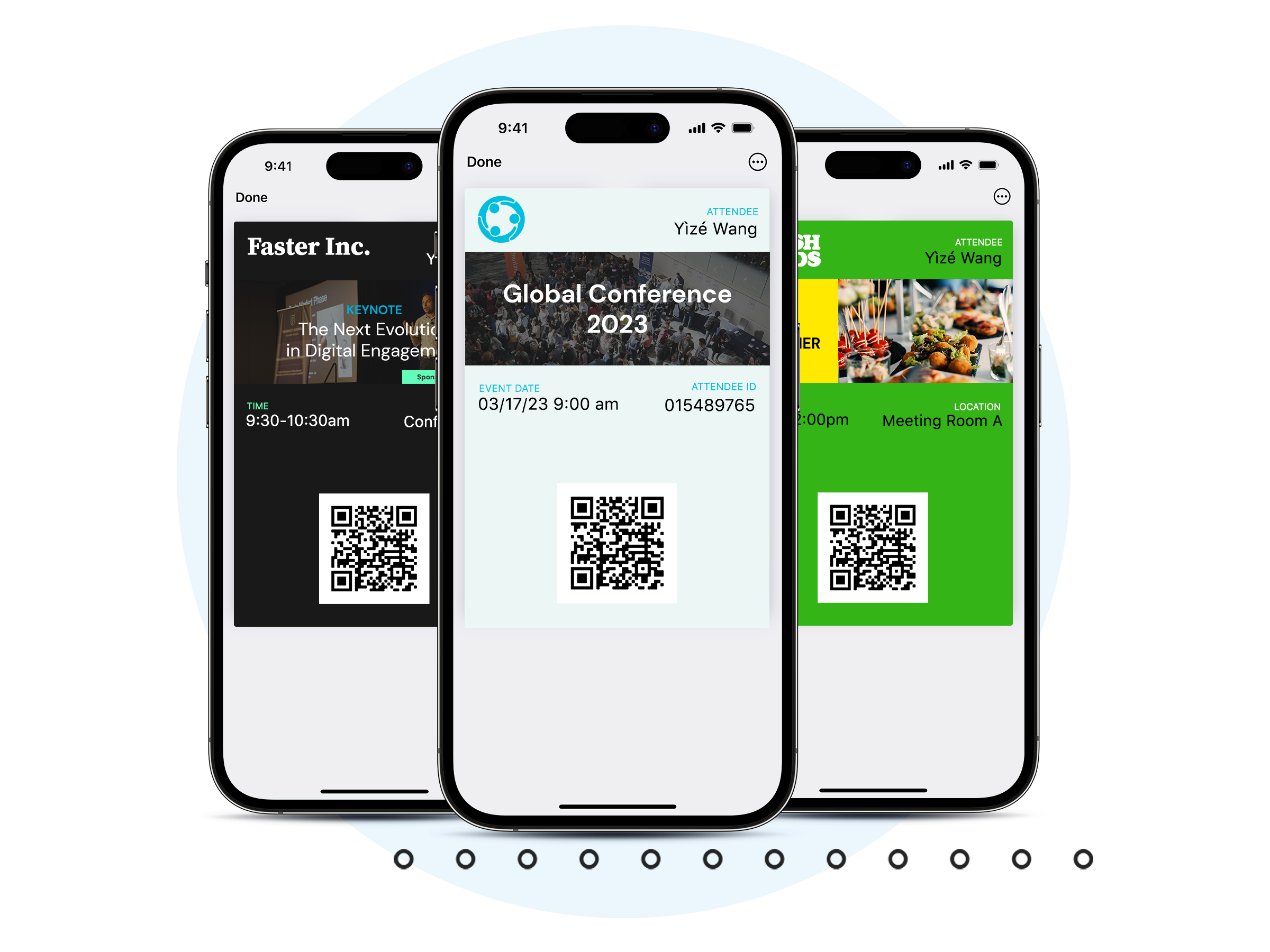 Multi-Event/Item Passes
Passcreator wallet passes now support the ability to scan multiple items, such as if your event requires each ticket to be valid for only one entry and one complimentary beverage. Items in Passcreator are defined as anything a pass can be scanned for.
Smart Scan Web & App
The Smart Scan app is now compatible with Janam XT3 devices. This device, paired with the Smart Scan app, is quickly becoming the easiest method to scan NFC passes, enabling extremely quick scans. The Janam device works effectively in low-light environments and is a ruggedized tool specifically designed for scanning. Passes with NFC functionality can also now be scanned and validated on Smart Scan Web through computer devices.
Earlier this year, Passcreator, in tandem with the Smart Scan app, enabled thousands of NFC-based, contactless digital tickets to be scanned for registration at the 94th Oscars. The Smart Scan App was adapted to support the rugged Janam pedestals and devices as well as their built-in NFC and laser scanner to make check-in a seamless experience fit for the stars.
Digital Stamp Card With Dynamic Images
Stamp cards have developed dynamic image functionality. Wallet passes support background images that indicate the number of stamps and automatically update as the number changes, now offering a complete end-to-end solution from sign-up to redemption all within Passcreator. The same stamp card can also be reused once it's full.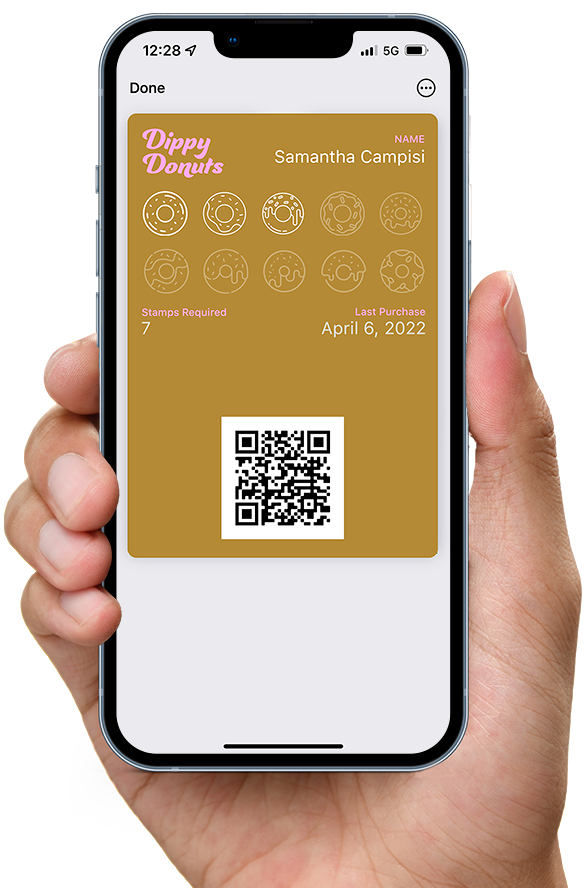 Overview of Improved Functionality
Design/UX Features
Opt-in pages match the download page design
Layout of passes improved on Google Wallet
Four additional fields added to the event tickets layout on iOS
Buttons on opt-in pages are now editable and translatable
Frontend white-labelling enables custom fonts and styling options on public pages (i.e. Pass download pages)
Optional PIN request before users can access passes. This pin can be the same for all passes within a project or different for each user.
NFC & Barcode
Optional biometric ID (face or touch) to access NFC passes
NFC passes can be deployed without a barcode on the back of the pass
Barcode values support line breaks (i.e. inserting a Visa card in the barcode of the pass)
Barcode alternative text can be hidden in print-view only (barcodes previously auto-appeared in print-view)
API & Webhook
API endpoint to send push notifications to multiple passes at once, reducing the number of API calls from 1:1 (calls to notifications) to 1:500
API endpoint to send a text message without creating a pass
Added signatures to webhooks to enable verification of payloads received
Other Technical Updates
Audit log shows who has changed what and to what object in the system
Optional custom web tracking
Option to disable relevant date if location-based notifications are set (on iOS devices)
Initial push notification messages supported in the template API
Logs added to the user interface that shows submitted webhook data for the last 48 hours (makes debugging integrations easier and confirms that data has been sent or received)
After an exciting year, we're extremely proud to share this comprehensive list of our many updates to Passcreator. While the platform has improved its functionality greatly, our team is always looking for new ways to deliver an innovative and reliable user experience. We hope these new features help you make it easier than ever to use Passcreator!